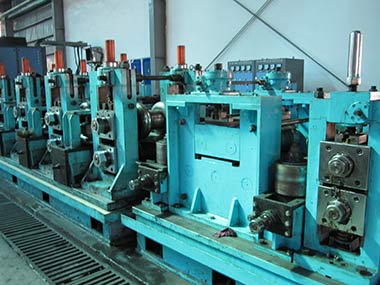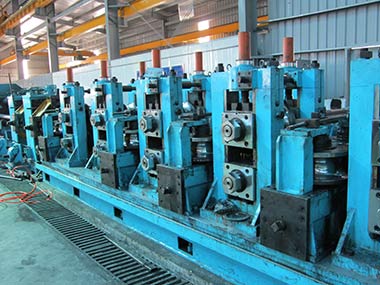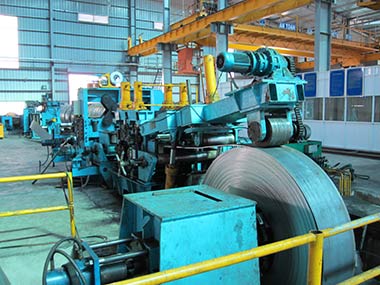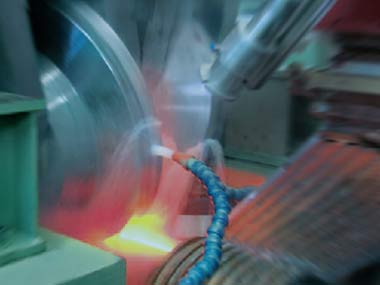 ERW/API 168 PIPe mill Line
Raw material (Steel Strip) in form of a coil is uncoiled and feed into forming section passing through the equipment of entry section. Entry section enables the pipe mill to run continuously by using strip joining and accumulation equipment. Pipe is formed in round shape passing through a set of driven and idler rollers of forming section before welding. In welding section pipe is longitudinally welded by using high frequency induction welding method. Outside bead is removed and formed in shape of scrap. The weld seam is ironed and pipe passes through the cooling section. In sizing section, pipe is formed to specified size and converted into specified shape. After sizing, pipe is cut to specified length by using flying cutting equipment and delivered in collecting troughs passing through run out conveyor.
Function
This pipe is used especially for Petroleum, Natural gas, City gas, Pipe network, Chemical industry, Electricity, Steel truss, Water and Gas pipeline; it is widely used for a variety of pressure pipelines.
Process flow
Coil loading—Uncoiling—Pinching & Leveling—End Shearing‐Strip joining—Horizontal spiral strip accumulator—Forming‐HF Welding– O.D bead cutter–SEAM ANNEALER —Cooling—Sizing & Turks head‐Measuring roll—Flying cut off machine—Run out conveyor_ End facing & chamfering_ Hydrostatic Test- Ultrasonic Testers—Packing
| | |
| --- | --- |
| Specification | |
| Raw material | Carbon Steel, Cold or Hot Rolled pre slit strip coils of weld able grade with max. 0.2% carbon. |
| Material grade | Q235A~Q345,B,10#、20#,J55,N80,X42-X70 |
| Round pipe O.D. | Min 76.2mm, max.168.1mm |
| Wall thickness of Round | Min.2.0mm, max.10.0mm |
| Square tube | Min 20x20mm, max70x70 mm |
| Rectangle tube | Min 20x30mm, max40x100 mm |
| Wall thickness sq & rec. | Min.0.8mm, max.8.5mm |
| H.F. welder | Solid state,600 kW |
| Line Speed | Max 60 m/min |
| Pipe length | 5 – 12 m |
| Standard | API 5LX, API 5L A&B, ASTM A53 A&B, Up to API X-70 |